Your Guide To Yoga
A Yoga Girl® Guide by Rachel Brathen
Whether you are taking your first steps toward beginning a yoga practice or have been enjoying the benefits of stepping onto your mat for a long time; welcome.
In this
free
guide, created by Rachel Brathen, you'll find everything you need to bring Yoga into your life - S
tart up a home practice
,
find the
right
teacher for you,
learn to truly listen to your body and begin to move in intuitive and loving ways.
$0 - FREE GUIDE!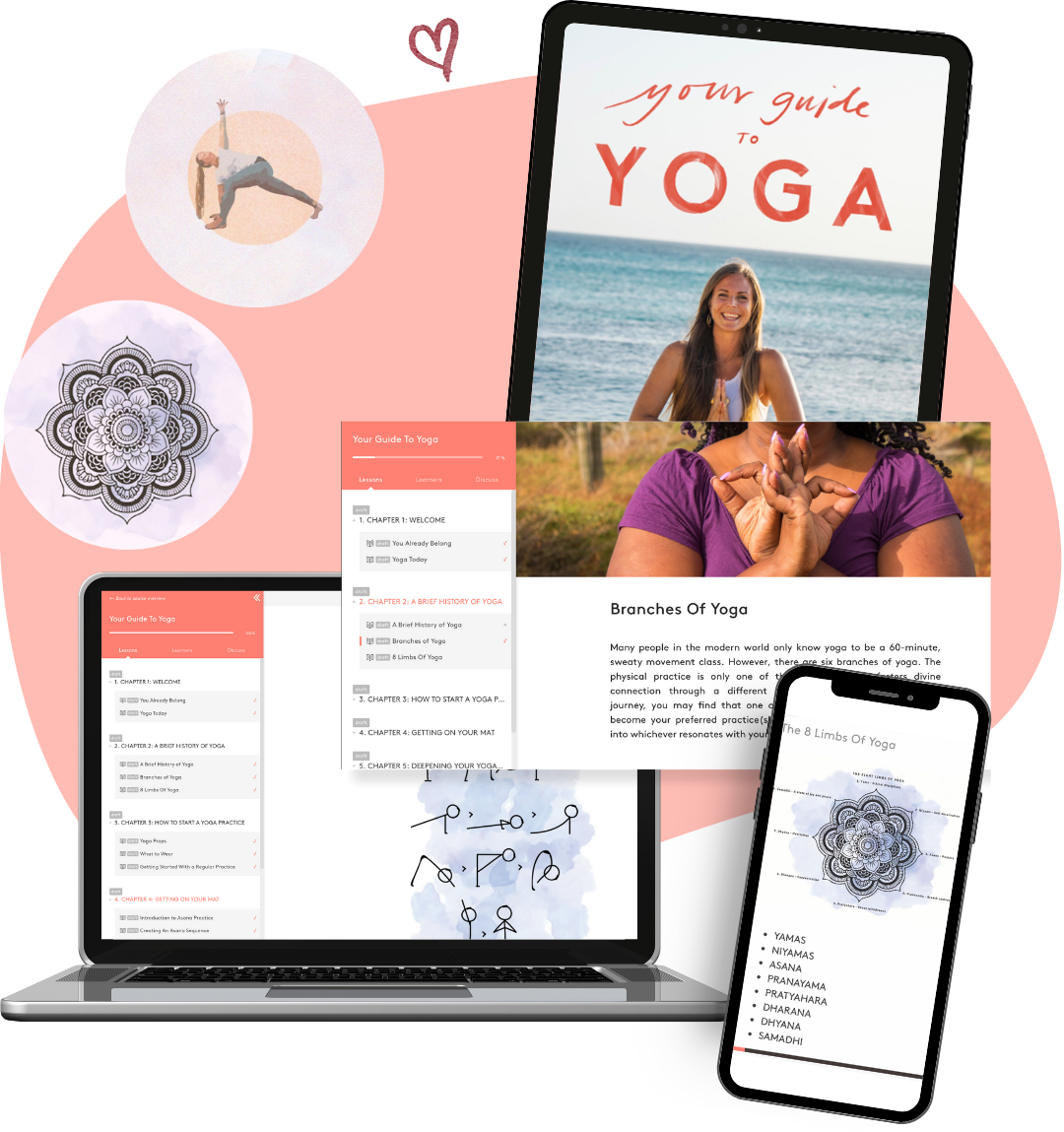 In this guide, you will learn and explore:
A brief history of Yoga



How to start a Yoga practice



Foundational poses and how to modify your practice



How to start a meditation practice



How to deepen your Yoga practice
What's Included:
A brief history of Yoga


Take time to explore and understand the history of yoga, in order to fully honour the roots of this practice.
How to start a Yoga practice
If you have a body, you have all you need to practice yoga! However, there are some tools and props that can help you along the way.
Deepening your Yoga practice
Explore Mudras, Bandhas, Chakras and more as you begin to further your Yogic journey.
Beginning a Meditation practice
Meditation is a wonderful tool that is proven to help us destress and bring about a sense of overall wellbeing.
Meet your course facilitator
Rachel Brathen
Rachel is a Swedish-native,
New York Times best-selling author
, non-profit founder, serial entrepreneur, and an international yoga teacher with sold out classes and festivals around the world. She's also the founder and CEO of
Yoga Girl®
, the owner of the largest yoga studio in the Caribbean,
Island Yoga
, and the host of two #1 podcast shows,
From The Heart with Rachel Brathen
and
The Daily Practice with Rachel Brathen
.
With over 2 million followers on social media, and reaching a global audience in over 170 countries, Rachel has been featured in Women's Health, Yoga Journal, The New York Times, Forbes, Tedx Talks, and more.
Rachel's inviting methodology and nurturing guidance serves the purpose of deepening the connection we have not only to ourselves, but with the people around us as well. With over a decade of professional teaching experience, she has now developed the online HOME course out of her own yoga, healing, and meditation practices to help make some of her in-person offerings more accessible around the globe.
When she's not actively trying to help make a change in the world, she enjoys cooking, baking, communing with nature, and spending her days with her husband, Dennis, their daughter, Lea Luna, and their three dogs, Ringo, Laika, and Quila.





Frequently asked questions
How much time do I need to dedicate to this course?
It's completely up to you! This FREE guide is yours forever, so you can take as much time as you'd like, to move through the chapters.
You can also return to this guide whenever you'd like to!
Do I need any yoga experience to follow this guide?
No! This is a great place to start your yoga journey and learn what you need to begin a more regular practice. With that said, if you have questions or concerns about a specific medical condition or particular physical activity, please don't hesitate to reach out to us at
[email protected]
and consult with your medical doctor.
How long will I have access to these materials?
As long as you have an account with the Yoga Girl® School on Learnworlds, you'll be able to access your free Guide To Yoga!
My question hasn't been answered here. Who can I talk to?
If you have any additional questions that weren't already answered, please reach out to our customer support team at
[email protected]
.