Phases of the Moon
A Yoga Girl® Guide
Working with the energies of the moon can help us to accomplish our goals and dreams. We can manifest what we truly desire, let go of things no longer serving us, and come home to gratitude for all of the abundance the cycle of life has to offer.

The moon has the power to guide our intuition, to show us what we need to work on, and to help us understand ourselves and work in harmony under her guidance.

This guide, created by Yoga Girl®, will help you to come to a deeper understanding of the ways in which you can work with the phases of the moon to create the life that you desire.
$25 -
For lifetime access.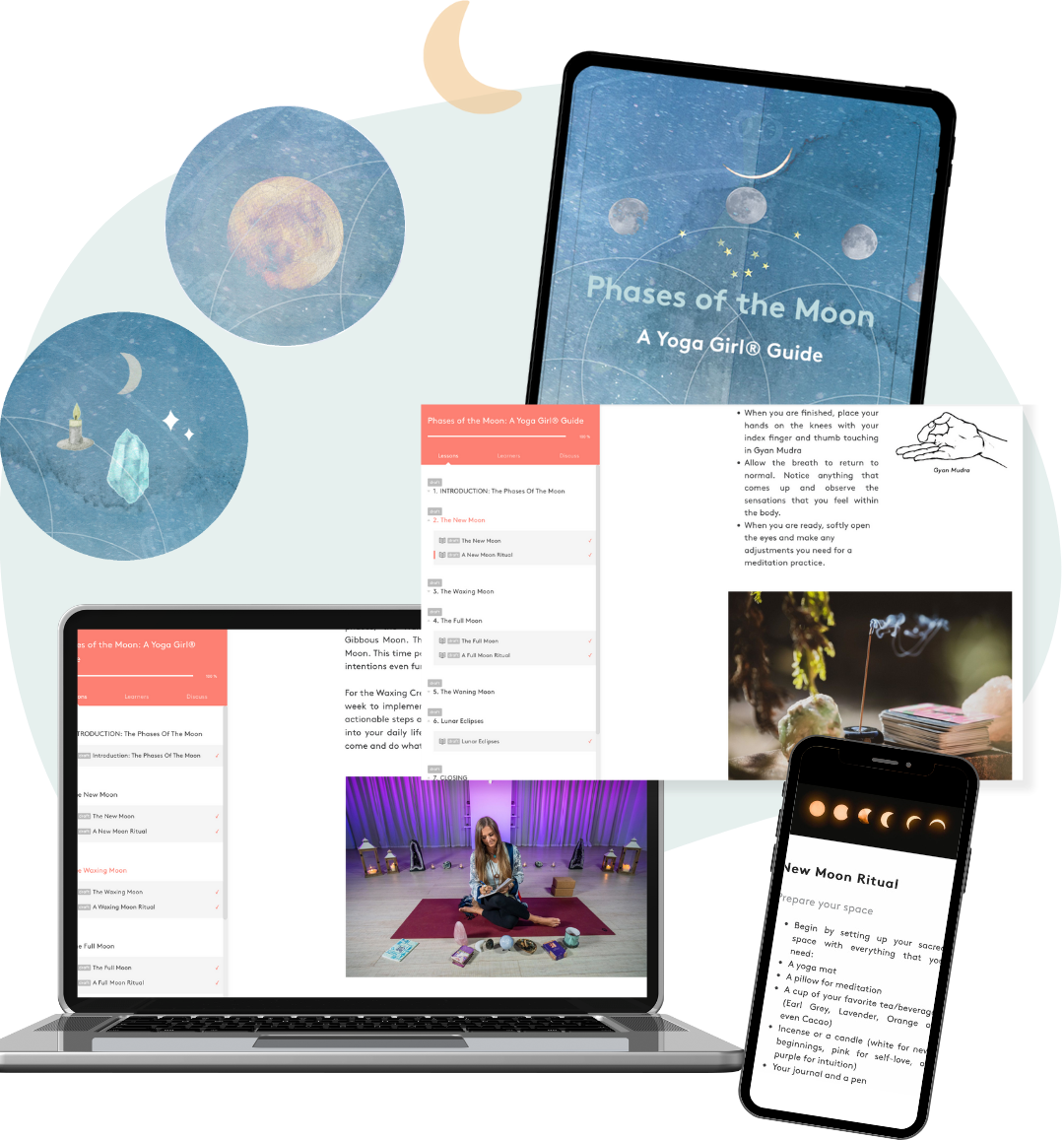 In this course, you will learn and explore:
What we can receive during the New, Waxing, Full and Waning phases of the moon



How to create a ritual to practice for each phase of the moon



Yoga, pranayama, meditation, and visualization techniques for each phase of the moon



Journaling prompts and practice reflections with your favorite oracle deck


5
Yoga classes
Tune into the body and honor any heightened sensations during each phase of the moon, with yoga classes specifically suited for each moon cycle.
7
In-depth articles
The moon is an incredibly powerful and magnetizing force - Learn more about its power, how each phase can have an impact on your life, and how you can begin to live in sync with the cycles.


4
Moon phase rituals
Create a sacred space and practice rituals designed for each moon cycle, to release old energies and welcome new gifts into each phase of the moon.

"And the moon said to me - my darling daughter, you do not have to be whole in order to shine."
Nichole McElhaney
Frequently asked questions
How much time do I need to dedicate to this course?
It's completely up to you! Take as much time as you'd like, to move through the chapters and return to this guide whenever you'd like to!
How long will I have access to these materials?
If you purchased Phases Of The Moon as a singular, once-off purchase then you will have lifetime access to this guide. If you received access to this guide through a Yoga Girl® Yearly Membership, you'll have access to the Guide as long as your subscription is valid.
I purchased Phases Of The Moon, how can I access my School Dashboard and all of the course materials?
After logging into YogaGirl.com, simply go to your account avatar on the top right (or menu if on mobile) and click My School Dashboard. From there you will have access to your school dashboard, school messages inbox, course lessons, the community, and more.
My question hasn't been answered here. Who can I talk to?
If you have any additional questions that weren't already answered, please reach out to our customer support team at
[email protected]
.